2008 Rheinland Pfalz-Saar International Mare


Photo: Sherry Smith




Fashionably Late is a 15.3hh, 4 year old, homozygous black mare by RPSI stallion, Freedomhall out of a mare by Inselkönig. Branded by the RPSI. Hunter or amateur dressage prospect. Wonderful mind, loves to learn and easy to deal with in all situations. Safe for any rider. Fashionably Late recently competed in a dressage schooling show at the Florida Horse park and received the comment "very talented horse" on her score sheets. She is schooling first level at home. Leg yeilds and shoulder-in are very easy for her.

---


2010 KWPN Mare

Florentina HF (UB40 x Flemmingh x Goodtimes) is a 16hh KWPN mare. She has been lightly started under saddle and is showing us that she will have a lot of talent for the dressage arena. "Flora" was awarded first premium status when presented at the KWPN keuring as a filly and was the Blalock Lakes KWPN-NA Keuring Site Champion. In 2010, Flora was the #1 USDF filly for DSHB and also was the 2010 Southeast Regional Foal Champion. Florentina HF has quality breeding to succeed in competition.

---



1999 3rd Level Holsteiner Gelding- SOLD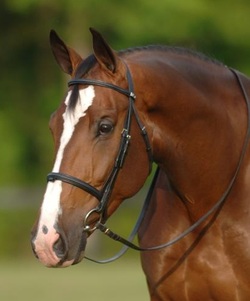 Best wishes to the Sadler family of Ocala, Florida. Not only is Skywalker a wonderful dressage horse, he is a star over fences. Good luck with Skywalker at HITS in the coming season!

Tall, handsome, impressive, 13 year old, Holstiener gelding (Solomon x Leonardo I); Skywalker has been shown successfully through Third Level by his amateur owner and has a great show record including USDF All-Breeds Awards and placings at regional championships. He has received scores of 9 in the walk and the extended canter and 8s for gaits overall.

2005- Region 3 Championships Open Training Level 8th place
2006- USDF All-Breeds Awards Holsteiner Adult Amateur Training Level 1st place
Region 3 Championships Adult Amateur Training level 8th place
2007- USDF All-Breeds Awards Holsteiner Adult Amateur First Level 1st place
Region 3 Championships Adult Amateur First Level 5th place
2009- Region 3 Championships Open Second Level 4th place
2012- 64.744% 3rd level Adult Amateur at the Sweetheart Cup in Orlando, FL

Skywalker has tremendous show ring presence and commands an audience whenever he enters the ring. He has flowing half passes and demonstrates talent for the piaffe and passage. Skywalker is ready to win ribbons with his next partner.



---
2008 NASDHA Gelding- SOLD!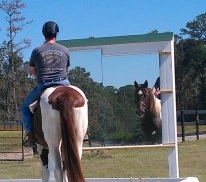 Congratulations to Bob Parker of Jewett City, Connecticut on the purchase of Solitaire. We wish him great success and can't wait to see Solitaire and Bob in the jumper ring at HITS next season.

VF No Comparison, "Solitaire", is a 16.2hh 2008 NASDHA gelding. Solitaire is a fun horse for the whole family. He's is level headed, east to sit and respectful of his rider. Solitaire has three good gaits and a soft, light mouth. He shows talent for lateral work and is very supple under saddle.

---


2009 Swedish Warmblood Gelding- SOLD!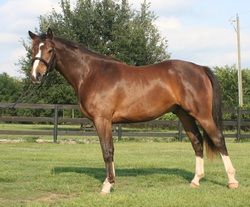 Alexa White has purchased this athletic gelding. We wish her success in the show ring in the future with Anton. Alexa and Anton are a perfect match for one another. Best wishes Alexa and Anton!

15.2hh bay Swedish Warmblood Gelding by Asterix 694. Bold, curious, in your pocket type. He is always ready to work and comes when he's called in the field.


---



2008 American Warmblood Society Mare- SOLD!


This lovely mare has been sold to Carla Benton of Punta Gorda, FL. We wish Carla a long and happy partnership with Miss Bea. We know she could not have a better owner. Congratulations Carla!

15.2hh, 4 year old, bay, Friesian cross mare. Wonderful, reliable type for a teenager or small adult amateur. Easy to sit, easy leg yields, quiet and sensible. Despite her young age, this mare is suitable for a timid rider.








1996 KWPN Gelding- SOLD!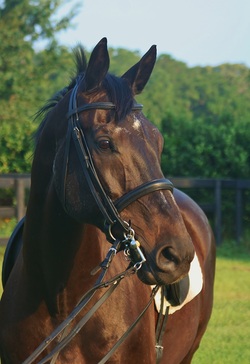 Congratulations! We are pleased to announce the sale of this wonderful gelding to Susan Mitchell of Annwyn Equestrian Center. Best wishes to the pair for a successful show season.


16.2hh, black, Dutch Warmblood gelding by Contango. 4th level/Prix St.Georges schoolmaster. Easy lateral work and canter pirouettes, expressive trot extensions. He loves to show and turns on the charm when the bell rings.




---