How Can We Help You?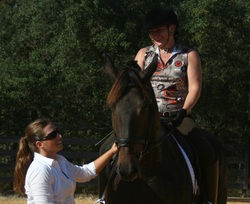 We've moved! Exciting changes are in the works for Southern Lights Dressage. Lessons and horse training are currently available at your location in Marion, Levy or Citrus counties. We will soon be offering lessons, training and board at the facility we are developing in Morriston, FL.

​Self-serve TheraPlate sessions are currently available at our Morriston Farm. Please contact us for our very reasonable rates.

For clients living outside central Florida, Amber offers "E-Lessons". Send a 20 to 30 minute video of your ride (or post video using a private link on You Tube) for a written evaluation by email and telephone consultation. Amber will suggest helpful exercises and answer any training questions from the rider.

One day or weekend clinics may be arranged at your facility.

Warm-up coaching is offered at selected dressage competitions.

With a large base of contacts, Southern Lights Dressage can help you find your next equine partner or sell your current mount. Quality consignment sales accepted.




---

Western dressage lessons are also offered on any breed of horse. Amber is a graduate of Western Dressage Association of America's "Train the Trainers".
​
---
Fee Schedule

Single Lesson/Training Ride $65.00

Package of 5 Lessons/Rides $275.00

Package of 10 Lessons/Rides $500.00

Available summer 2018: Full Board and Training, One Month $1600.00
(Approximately 20 rides or lessons to occur within 30 days.)

Trailer-in ​Theraplate Usage- Self Serve Package- $65 per month for up to FIVE 30 minute sessions

​24 HOUR CANCELLATION POLICY
Any lesson cancellations made within 24 hours of the scheduled lesson time with be subject to the full lesson fee. Exceptions only made for unsafe weather conditions.



​

About Southern Lights Dressage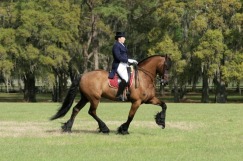 Southern Lights Dressage is owned by Amber and Brian Kimball of Citrus Springs, Florida. The company provides quality dressage training and instruction to horses and riders in the Citrus, Marion and Levy county areas of Florida.
Southern Lights Dressage only supports fair and humane practices when training and caring for horses. No short cuts or gadgets are employed and only equipment that is legal to use on the show grounds of a USDF competition is used in day to day training.
Every client has different goals and reasons for riding dressage. Whether the client desires to ride safely in their back yard or has dreams of blue ribbons, it is imperative that every client rides in a supportive environment. Southern Lights Dressage aims to provide a supportive, calm, learning environment for riders and their horses.
USDF Silver medalist, Amber Kimball has the experience to help a variety of horses and riders reach their full potential. Following her horse filled high school years, Amber opted to pursue a full time equine education. She began the journey in 1997 at Franklands Farm in Brockville, Ontario, Canada. For the next three and a half years, Amber held a working student position at the farm riding under the watchful eye of Canadian Olympic bronze medalist, Gina Smith. Gina emphasized the importance of developing a strong basic foundation when training the horse and rider and maintaining strict standards of stable management. Amber rode all types and levels of horses while employed at Frankland's. Also, she had the opportunity to teach adults and children under Gina's supervision. One of the highlights of Amber's years at Franklands was grooming Gina's KWPN gelding, Fledermaus, at the World Cup in Holland in the spring of 2000.
The trip to the World Cup sparked Amber's interest in European dressage. In 2001 she traveled to Belgium for a working student opportunity at the stable of Johan and Penny Rockx. Amber rode Dutch Warmblood mares, geldings and stallions while under the instruction of Penny and Johan. The importance of the horses' acceptance of the aids was stressed daily. Amber was able to compare the differences in North American and European dressage with trips to horse shows and to Anky Van Grunsven's stable.
Amber's return to North America found her at INSPO, the farm of American Olympian, Belinda Nairn-Wertman. For the next eight years Amber trained and showed imported Dutch Warmbloods and Friesians for INSPO in Pennsylvania and Florida. Riding for INSPO was a tremendous addition to Amber's education. Belinda's tutalege refined her skills on horseback in the schooling arena and in the show ring. The instruction Amber recieved stressed the importance of the horse's straightness, lightness and responsiveness to the aids. During her years working for Belinda, Amber successfully trained and competed horses of all ages from Training Level to Intermediare 2. This experience gave Amber the ability to carefully and confidently develop a horse's education from the basics of walk-trot-canter through all of the advanced movements including one tempis, piaffe and passage. Working for Belinda also gave her experience in the sales aspect of the horse industry. INSPO's business centered mostly around importing horses from Holland for resale to riders all over the US. This enabled her to develop an eye for choosing a quality dressage horse and how to match that horse with the correct type of rider.
Amber developed Southern Lights Dressage LLC, in 2010, in Ocala, Florida. She is available for horse training, lessons and clinics in Marion, Citrus and Levy counties of Florida, all year-round.

---